Your retirement is the time for you to do anything and everything that brings you joy. While relaxing should certainly be a part of this – like getting to your growing "to be read" pile of books – you may search for ways to spend your time that keeps you physically active, socially engaged, and connected with others. A great solution for seniors is to volunteer in retirement. 
This is the perfect time to get involved. You can decide how much time you want to devote to volunteering, and you don't have to balance major time constraints from work obligations. Volunteer organizations provide plenty of opportunities for seniors to get involved in meaningful ways that fulfill you and support others.
What Are the Benefits of Volunteering in Retirement?
Volunteering in retirement also provides many important benefits to seniors. It can have a profound effect on your well-being because volunteering positively affects your physical and mental health.
Studies show that seniors engaged in volunteer work gain numerous health benefits. Because volunteering connects seniors with more social and psychological resources and opportunities to connect with others, they are less likely to experience isolation, which is linked to mental health issues like depression and anxiety. The study also states volunteering regularly decreases depression for people ages 65 and up.
Another study showed that volunteering about two hours a week reduces the risk of the following:
Hypertension
Cardiovascular disease
Cognitive impairment
Mortality
Volunteers were also more likely to experience positive outcomes like:
While volunteering provides a sense of purpose, it also gives you opportunities to meet new people. You may make new friends, and you'll have something to look forward to each week. Let's take a look at how you can get involved in volunteering in your community.
Volunteer Opportunities for Seniors
Seniors are always welcome volunteers. It won't be difficult to find an opportunity that excites you. Here are five ideas of possible ways to volunteer:
1. Animal Shelters
If you love nothing more than being around dogs and cats, volunteering at an animal shelter should be at the top of your list. There are often many nonprofit animal shelters in your community that are eager for volunteers.
Anderson Humane is a local shelter in South Elgin, IL, about 14 minutes away from The Oaks at Barlett. Volunteers can assist with fundraisers and events, provide hands-on care for animals, cleaning the facility, and more. 
Additionally, the Humane Society provides nationwide volunteer opportunities and will likely have a local presence near you. Volunteering with the Humane Society could include caring for animals, contacting legislators regarding animal rights issues and laws, or helping at adoption events.
2. Parks
This is perfect for those who love the great outdoors. Whether it's a local, state, or national park, there's likely some way for you to help support them. Some volunteer activities include removing invasive plant species, organizing events, and assisting with trail maintenance.
If you're looking for positions that help connect you with nature but don't necessarily mean you'll be outside for the entire time, you could look for an office support role or write an article about the park for their site.
The National Park Service (NPS) can help you get involved with maintaining a federal park or battlefield, which could be of great interest for history buffs. Also check out your local Parks & Recreation city departments for volunteer opportunities. 
Residents at The Oaks at Bartett can volunteer with the Bartlett Park Foundation. It's only eight minutes away from The Oaks, and post new volunteer opportunities each season.
3. Get involved in Local (or National) Charities
Local charities may help meet the basic needs of people living in your area. This could include helping with providing shelter, food, and clothing. Depending on what you like to do, your options could range from helping to cook meals and serving people to running events and more.
Some local charities include:
MS Crop for a Cause. This charity hosts all types of events throughout the year to raise funds for the National Multiple Sclerosis Society. They're known for their craft events where people can come together to raise funds to fight MS, and also participate in walk events.  
Habitat for Humanity of Northern Fox Valley. Volunteers can help the Habitat for Humanity ReStore in tasks like receiving donations, completing clerical work, processing items, and helping customers.
Websites like Charity Navigator help you find nonprofit organizations that align with your interests so you can find the right fit for you.
4. Community Gardening 

If you have a green thumb and love to get your hands dirty, volunteering at a community garden will get you outside in the fresh air. You can contribute your expertise in growing vegetables, herbs, flowers, etc. The community may grow food that then goes to benefit local food banks.

You can also check with your local botanical gardens to see about volunteer opportunities or committees they might have. Gardening with others provides a social opportunity while getting therapeutic physical exercise. You can teach others some gardening tips you've learned, and you may learn something new from the others.
Hanover Park Community Garden is a nine minute drive from The Oaks at Bartlett. Volunteers can plant native vegetation and help with weeding or raking playground areas. 
5. Education
Local schools like Bartlett Elementary School or daycares may seek support and need volunteers. This could be for lunchtime monitoring, classroom support to help the teacher, and to help with activities. If you have experience in teaching, you could also tutor kids who need extra help in certain subjects.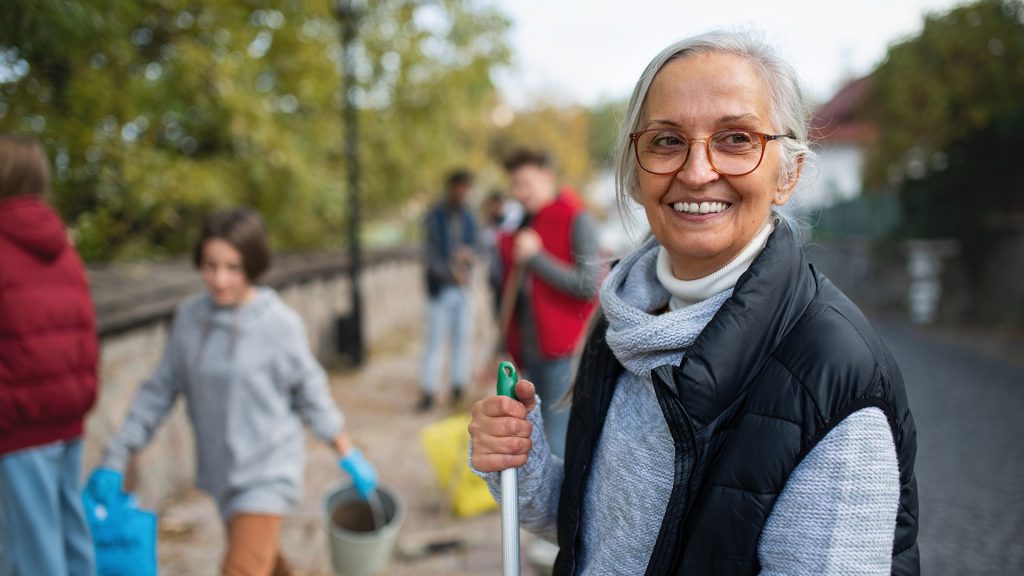 How To Get Started Volunteering as an Older Adult
When you want to get involved in volunteering, you may not know where to start. Before conducting your research, you could brainstorm a list of your interests, skills, and life experience to give you a starting point.
Then, you could examine if you want to volunteer with a smaller, local organization or be a part of a larger one with a network of global volunteers. Comparing this with your list of interests and life skills could provide you with more direction on which volunteer organizations you should contact.
When you reach out to an organization, a volunteer coordinator may respond to you to discuss ways for you to help out. You could share your interests and why you want to get involved with the organization to give them an idea of the direction you'd like to take. As the coordinator, they'll likely be able to help you find your niche within the organization.
Many adult volunteers may think once they're connected with a volunteer program, they can't leave or join another. This is not the case at all.
Remember, volunteering is your choice of what to do with your time. Volunteering can be an opportunity to explore anything that jumps out to you. Don't be afraid to try any volunteer experience that sparks your interest.
The Oaks at Bartlett Welcomes Community
The Oaks at Bartlett Senior Living fosters a community of kindness and belonging. Our residents receive quality care, fantastic services and amenities, and an environment where something interesting is always happening that they can enjoy with their friends.
Find a community of like-minded people who like to give back by exploring The Oaks at Bartlett. Schedule a tour or come to an event to see our close-knit and friendly community.