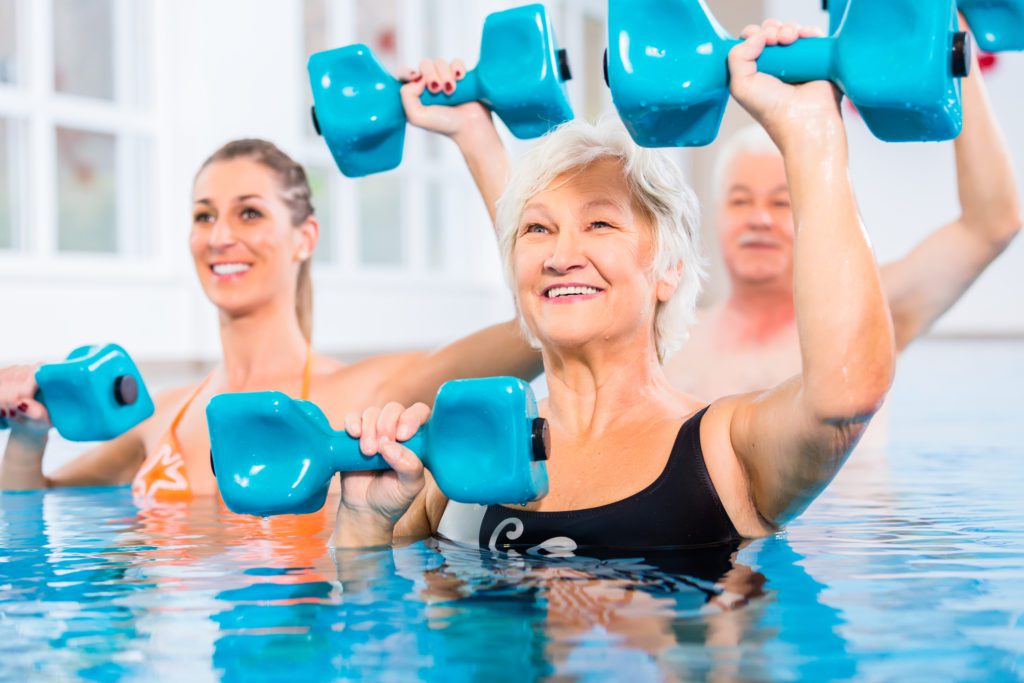 Aging affects all of us differently, and sometimes limitations make physical activities more challenging.
In spite of these challenges, we can still stay active and engaged with our physical well-being by making sensible modifications to our routines.
Limitations in range of motion of joints is a normal part of the aging process. A decrease in muscle strength due to sarcopenia, or age-related loss of muscle tissue, is also a normal part of aging. Keeping active and healthy is still possible; we just need to make smart choices about how we move our bodies. 
It's vital to continue to seek out opportunities to stay healthy and move as much as possible. Here are some ways to make it happen!
Work with a medical or fitness professional to set reasonable, achievable goals. Knowing your limitations—and also your possibilities—is a great way to get started.


Physical therapy can help with specific concerns. Do you have trouble with your knees? Pain in your low back? Often, knee pain results from weakness in leg muscles. Low back pain can be the result of lack of strength in core muscles. Evaluation by a PT can help identify and address potential roadblocks to movement.



Explore the multitude of classes

offered for limited-mobility participants. Chair dance, chair yoga, and Zumba Gold are some of the classes offered through SilverSneakers and other active older adult wellness organizations. In recognition of the need for seniors to keep moving, these classes are designed to engage more limited ranges of motion, are easier on joints, and make more modest aerobic demands on participants. Specialty classes, such as tai-chi for arthritis and restorative yoga, are formatted for low-impact and are particularly helpful for older adults who may have limited mobility.



Recognize that nutrition becomes even more important

with aging and decreasing mobility. We don't burn as many calories when we are less active, so awareness of consuming nutrient-dense foods becomes essential. Protein intake, in particular, should increase for older adults.



Don't forget strength and flexibility.

Two often-neglected aspects of physical fitness are strength and flexibility training. Strength training is important to help offset the effects of sarcopenia (normal, age-related muscle tissue loss), and can be done seated with bands and light weights. Flexibility exercises help maintain and improve range of motion, and can also be done seated.



Make sensible modifications.

If tennis is too hard on knee and elbow joints, give pickleball a try. Running can cause foot, ankle, knee, and hip pain, but walking has a multitude of benefits for emotional and physical wellness. Biking is another great option that's low-impact and strengthens leg muscles. Instead of lamenting the loss of what you used to do, focus on joy to be found in the many things you can do!



Consider Movement in the Water.

The buoyancy we experience in the water makes for exercise that's easy on the joints. Swimming, kicking while using a kickboard or other flotation device, jogging in the water, and water aerobics are great choices. 
Staying connected socially is just as important to wellbeing as is physical activity. You can make staying active and healthy more fun by exercising with a friend. Whether it's a walk in the park or a chair dance class, being active together adds social and cognitive benefits to whatever you choose to do!
Meet The Oaks at Bartlett. A senior living community that's big enough to offer abundant amenities, yet small enough that everyone knows your name. Here on our beautiful 44-acre campus, you'll find good people and a real sense of community, with a team focused on what matters to you. We have deep roots in the community, yet we are always continuing to grow, change and reach for the sky.