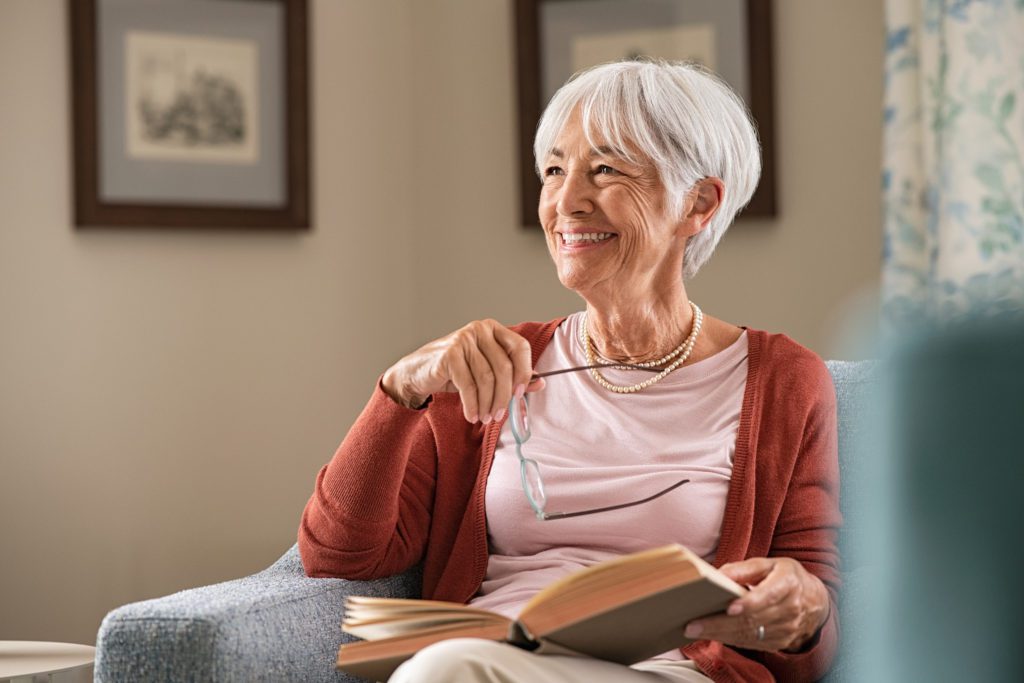 Living in a retirement community has become a popular option for active older adults because of a new emphasis on active adult independent living.
In fact, the name "Continuing Care Retirement Community" has been replaced by the name "Life Plan Community" because of the latter's emphasis on living rather than on care.
The AARP reports that our nation's nearly 2,000 retirement communities offering a continuum of care provide both different types of housing and care levels depending on residents' changing care needs. The availability of multiple tiers of care is one of the advantages of living in a Life Plan retirement community.  But what are other advantages? And what are the downsides of community living?
Life Plan Community Pros
Positive Effects on Aging. A growing body of research suggests a link between living in a Life Plan Community and increases in life satisfaction and longevity because of the availability of care and wellness services and opportunities for social engagement.


Security and Peace of Mind. For those seniors who like to plan ahead, Life Plan Communities offer stability, peace of mind, and financial advantages, particularly for those who move into the community early. Life Plan Communities can also help adult children and other family members feel secure knowing their loved ones are safe and cared for.


Amenities. From woodworking shops and craft rooms to bistros and heated pools, retirement communities offer a wide array of onsite amenities.


Planned Events. and Activities With an emphasis on active adult living comes a wealth of cultural and social events, including lectures, classes, happy hours, and excursions.



Focus on Wellness.

Today's retirement communities offer a range of services to enhance overall wellness in addition to physical fitness.



Campus Setting.

Many retirement communities refer to their physical setting as their "campus," often with natural features, such as landscaping, gardens, lakes, and walking and biking trails.



Convenience of Staying in One Location.

Because Life Plan communities offer a continuum of care, residents can stay on the same campus, keeping their friend group connections and medical providers even if their care needs change.



No Maintenance.

Many seniors choose to move to a retirement community because they wish to refocus their time and energy away from yard work, upkeep of their home, and other chores to more pleasurable activities.



Services.

Retirement communities usually offer a wide array of services, such as transportation to appointments, housekeeping, laundry, and meal options.
Life Plan Community Cons
Entrance Fees. The average buy-in fee of a Life Plan community is about $300,000.



Monthly Fees.

Monthly fees range widely, from $500 to as much as $3,000 in some communities.


Complex Contracts. Some contracts can be difficult to understand, particularly regarding percentages of refundable fees and monthly costs.



Lack of Age Diversity.

Social interaction with people of a variety of ages can be limited because of the age requirements for community entrance.



Medicare Coverage is Limited.

Skilled nursing and other types of care may be covered if a community is Medicare-certified.



HOA-Like Rules.

Residents of retirement communities, like those who live in communities with homeowners' associations, are required to follow community rules.
Finding Perspective
Life Plan Communities have made strides in recent years to address seniors' concerns regarding perceived disadvantages to retirement community living. For example, many communities now offer rental options, eliminating the need for an up-front, buy-in, or entrance fee.  
Payment of an entrance fee, however, lowers monthly fees in most communities.
And, according to the nonprofit Human Good, most homeowners with a modest retirement income can find a budget-friendly community, making Life Plan Communities more affordable than most seniors realize.
Plus, some 80% of the 2,000 Life Plan Communities in the US are non-profits with a mission to serve the needs of their residents.
Many Life Plan Communities have also responded to the desires of many active older adults who wish to customize their Independent Living homes, and offer greater flexibility regarding floorplans, design, and décor.
Overall, Life Plan Communities are extremely financially stable, and are genuinely committed to helping seniors live their best lives, serving as a welcome option for many seeking stability and continuity of care.
Meet The Oaks at Bartlett. A senior living community that's big enough to offer abundant amenities, yet small enough that everyone knows your name. Here on our beautiful 44-acre campus, you'll find good people and a real sense of community, with a team focused on what matters to you. We have deep roots in the community, yet we are always continuing to grow, change and reach for the sky.