Our Touring Options and Protocols for Protecting Families and Seniors
We invite you to join us for a secure tour around our convenient and comfortable senior living community offering Independent and Assisted Living, Memory Care, and more in Bartlett, Illinois.
How has touring our senior living community changed during the COVID-19 pandemic?
Throughout the pandemic, we have carefully followed ever-changing Illinois state guidelines to protect our guests and residents. Despite these new challenges, our passionate team has continued to make The Oaks at Bartlett an extraordinary place to visit and to live.
What precautions should you take when you visit The Oaks at Bartlett in person?
While we are only doing virtual tours of our commons, you can see a vacant cottage home or apartment by private appointment. With seven spacious floor plans available in total, you are likely to find one that suits your needs.
If you plan to set up an in-person tour, scheduling it is easy; you can either call or fill out your information through our online form with a preferred date and time. We can send important details about our pricing, floor plans, and care services by mail or email.
During in-person tours, we require that common COVID protocols are followed, such as social distancing and wearing a face mask. More specifically, current Illinois state guidelines require us to screen visitors for signs of COVID-19, so you may have your temperature taken and be asked if you have experienced any symptoms.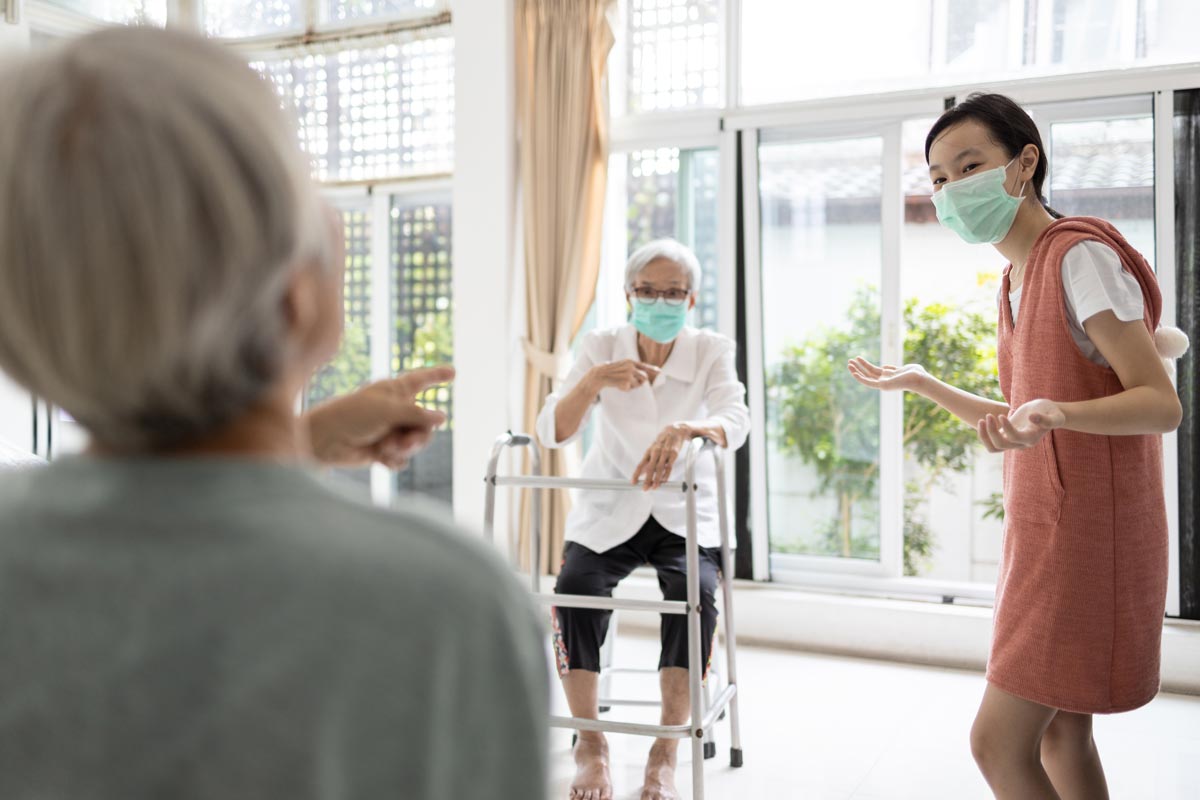 For the security of both you and our community, residents in isolation or quarantine will not be able to receive visitors. Most socially-distanced visits from loved ones will be held in residents' rooms and will avoid common spaces. They should be limited to two visitors at a time per resident. As the weather becomes warmer, we plan to offer more visits outdoors. 
Of course, we will clean and disinfect seating and other surfaces that are shared between visitors and residents. We will also remind you that if you develop symptoms within three days of visiting, you should contact us immediately.
What alternatives do I have to a traditional tour?
As previously mentioned, another option you have is to participate in an interactive virtual tour of our indoor and outdoor common areas through FaceTime or Zoom. This involves speaking to your tour guides and viewing that associate's surroundings as he or she travels through our spacious community rooms and impressive outdoor landscaping through a video call.
The Oaks at Bartlett's website contains plenty of photos featuring our spacious homes, apartments, scenery, and indoor amenities, but also of our residents socializing and taking part in their favorite hobbies together such as playing music, singing, competing in card and tabletop games, relaxing by our pool, and reading in our library. You can see them at pre-COVID outings to interesting destinations around the Bartlett area as well.
Regardless of how you choose to look around The Oaks at Bartlett, we will always value your security and comfort. We can't wait to see or hear from you virtually or in-person!
To schedule a tour of your choice and receive more information about our scenic community in Bartlett, ILL., please speak with one of our associates today.